OCEAN SPRAY, MAYFLOWER II AND FAMILY 
 Eric Weston of Carver, Massachusetts, is a member of Ocean Spray's 700 member grower owned cooperative.  His family has been cultivating cranberries since the mid-1800s and he traces his own roots back to 1620 Mayflower passenger Henry Sampson, a teenager who was among the 102 others who arrived seeking a new life in a new world.   This is Eric's story in his own words.  He was interviewed by Richard Stone, the author of PROJECT MAYFLOWER:  A Compact with History.   
The podcast can also be found on Sound Cloud.  www.SoundCloud.com under the search heading "Ocean Spray Mayflower."
 Learn more at Ocean Spray, Mayflower II and Family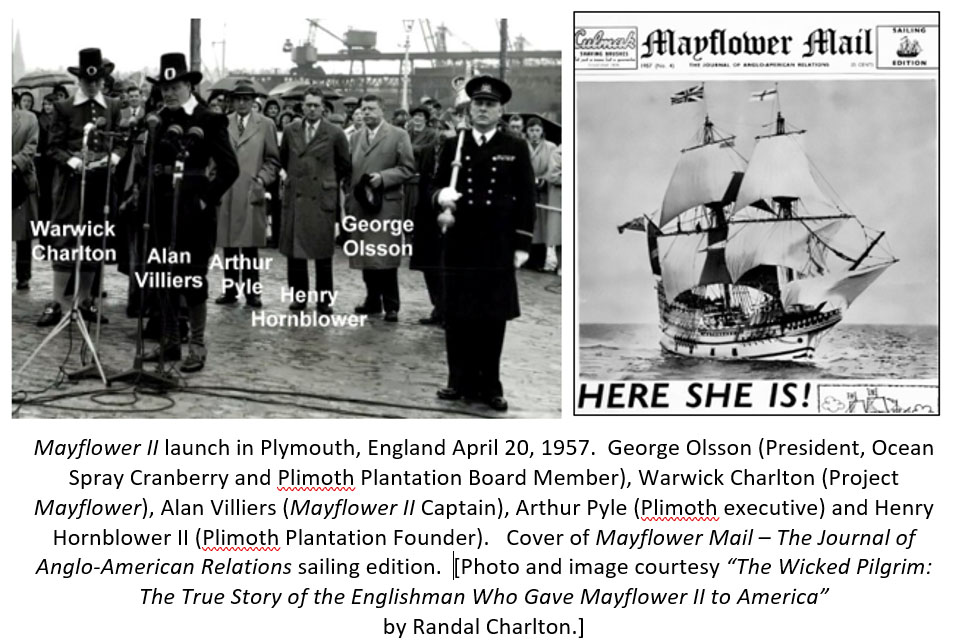 Ocean Spray has a connection to Mayflower II that was undiscovered until a photograph taken on April 20, 1957 in Plymouth, England was examined for a new book.  It shows two men dressed in Pilgrim outfits standing in front of a microphone at a shipyard addressing a crowd as three men dressed in overcoats stand in the background holding their hats, and a serious looking English official with a large ceremonial mace stands to the side.  There is more to this image than meets the eye.  The men in costume are Alan Villiers, the famous square rigged captain who will lead his crew across the Atlantic, and Warwick Charlton, the Englishman who felt the world needed a replica of the 1620 Mayflower and made it happen.  The businessmen are Henry Hornblower II, Founder of Plimoth Plantation, Arthur Pyle its first employee and Ocean Spray President George Olsson, who was also a Plantation director.  When the ship arrived in Massachusetts 57 days later it was greeted by 25,000 people, the international press corps and NBC Television broadcasting live to the nation.
The story of Ocean Spray's connection to the replica and to the original ship is being rediscovered in 2020 as the company celebrates in 90th anniversary and America honors the 400th anniversary of the Pilgrims' arrival.  In addition, the iconic Mayflower II has just undergoing a $11.2 million renovation to bring her back to original condition.  Connecting these events is the American cranberry, the indigenous fruit that was probably part of the First Thanksgiving in 1621.  In the centuries that followed it has become a dietary staple via sauces, juices and culinary innovation.  Most people know about the Pilgrims and cranberries, but few know that Ocean Spray was present when Mayflower II set sail.  The wooden craft was built in Britain by a group called Project Mayflower, which was owned by Charlton who hired Britain's top wooden shipbuilder Stuart Upham to oversee construction.  It was all part of an agreement that put the Brits in charge of funding, building and sailing the ship to America in exchange for Plimoth's exhibiting and caretaking.  Once anchored in New England, Mayflower II was presented to America as a tribute to the special relationship between the countries. 
George Olsson was head of a farmer-owned cooperative that produced and distributed a fruit unseen in Europe until the Pilgrims, the cranberry.  It is a small, reddish berry known for its strong bitter flavor and originally used by Native Americans for making dyes, as well as a high-energy food called pemmican, which was created by mixing the berries, venison and fat into a mush that was then shaped into cakes for future consumption.  The First Thanksgiving is believed to have featured the lowly fruit, which was subsequently used as an ingredient in tarts, preserves and sauces with recipes dating back to 1683.  Exports to Europe began during this period, but never had the impact of tobacco which came from the English colonies in Virginia.  By the 1880s innovations in cultivation made it possible for Wisconsin, Washington and Oregon to join New England in producing the fruit which saw mechanical pickers replace manual labor for harvesting at the turn of the century.  Soon cranberry sauce was put into small tin cans and marketed under the name Ocean Spray, and independent growers were organized into a cooperative society that was owned by farmers and not outside investors.  Where Hornblower represented the world of finance and Wall Street, Olsson represented a worker-owned enterprise that elected him chairman in 1958 and then positioned itself for global expansion through innovative marketing and the introduction of new products such as frozen cranberries, cranberry raisins and juices which were delivered in cutting edge containers such as the juice box.  By the time Olsson retired in 1973, Ocean Spray was well on its way to becoming a multi-billion dollar company and an iconic American brand with higher name recognition than Plimoth Plantation.  George was the right man to witness the launch because many of his coop colleagues could trace their family lineage back to the original 1620 ship.  There was a symmetry to his presence at the send-off that must have brought a smile to his face.
Among Ocean Spray growers with Mayflower roots is Eric Weston of Carver, Massachusetts.  Both of his parents' families go back to the Mayflower, with his mother's side tracing it roots to Henry Sampson, a teenager who was among the 102 others who arrived seeking a new life in a new world.  He eventually settled in Duxbury, married and helped raise nine children.  Eric's father's side also traces its roots to Mayflower descendants through local towns dating back centuries.    With such lineage, it is not surprising that cranberries are in his family's DNA.  They started in the mid-1800s when Seneca Weston had some bogs built and then passed down the tradition to his son Frank who married Florence Vaughan,  whose father T.T. Vaughan was also in the cranberry business at the time.  The two families came together eventually formed Weston Brother Cranberries.  As for the latest generation, Eric and his wife Elaine bought a 40 acre farm in 2008 and continued the family tradition.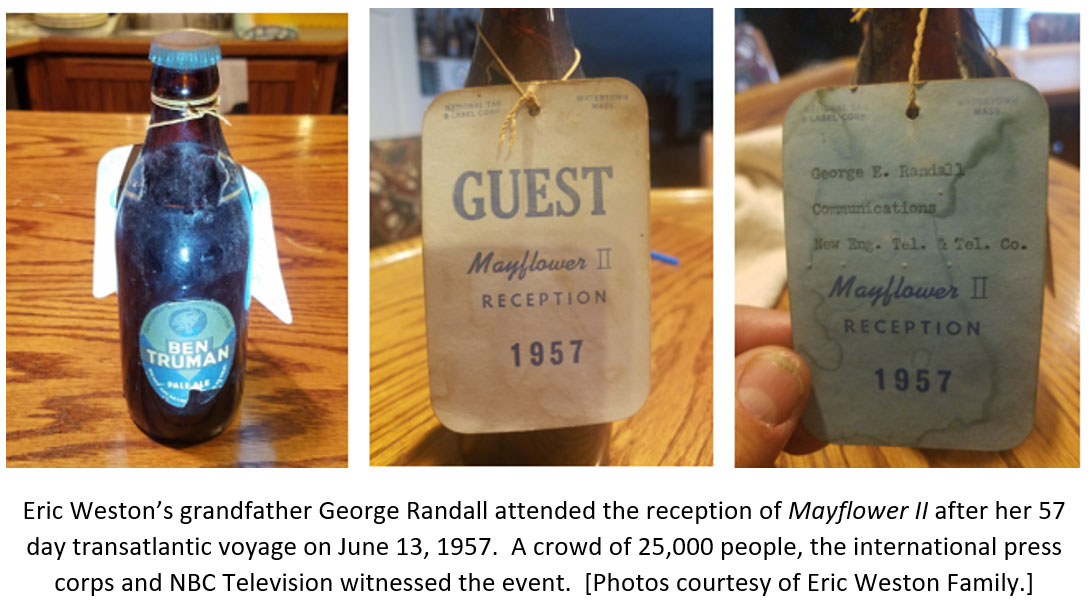 Thanksgiving is a special time for them and about ten years ago a new family tradition began: the Weston Cranberry Taste-Off that forces member to choose sides around the cranberry sauce table.  Everybody gets a taste and picks the one they like best.  On his father's side, Nana always seems partial to a 10-minute sauce that is easy to make and uses different kinds of berries.  Challenging her is his mother's mom who makes a traditional jelly jam type sauce with a recipe his sister can use throughout the year.  Recently they started giving the matriarchs different berry varieties that can have very distinct tastes and colors.  Asked if Ocean Spray had every asked him for these special recipes so they could be shared with other families across the country, he gave a sly smile and said "perhaps" in a mysterious way.
Innovation is important and one of Ocean Spray's strengths, according to Eric Weston. "On the bogs we use technology to improve tools and equipment in ways that help us grow a larger crop on less acreage.  A lot of small and mid-size growers here in Massachusetts have second jobs because technology has allowed them to maintain the family business while still drawing an income from another source.  It's not talked about much, but is important in this day and age."
When time permits, Eric and his family visit Plymouth Harbor to see Mayflower II now that she's back in town and has recently been added to the National Register of Historic Places. His aunt Jackie was a young college graduate in 1957 when the ship arrived.  She had the good fortune of working for a firm that was doing the PR for the event, which was big news worldwide.  She was able to go onboard with some reporters and get a tour, and also remembers being at a reception where Vice President Nixon was the guest of honor.  His grandfather George Randall worked for the New England Telephone Company and set up the communications for the ship.  His mom remembers taking a tour of the replica with her dad and sister when it first arrived.   As a special gift for a job well done, he was presented with a bottle of Ben Truman Pale Ale with a light blue label that had been carried on the historic voyage.  "He still has that bottle today along with his two guest passes for the reception hanging on it.  I have never seen another like it," Eric proudly noted.
Reflecting on his personal history, as well as Ocean Spray's, he said it all comes down to family.  "I am part of a grower owned cooperative that serves 700 cranberry farming families.  They own Ocean Spray.  It's truly their company," he said.  "As for me, its unique in today's America to have a family that goes back to one area for so long. I always look at the connections Mayflower descendants have and how much those men and women shaped southeastern Massachusetts, and really when it comes to the Pilgrims the country at large as well.  I feel honored to be part of that tradition."
# # #
About the Author.   
Richard Stone is the Publisher of Mayflower Event News and the author of a new book "PROJECT MAYFLOWER – A Compact with History."