MAYFLOWER FOREVER STAMP will be issued SEPTEMBER 17, 2020 in Plymouth, Massachusetts.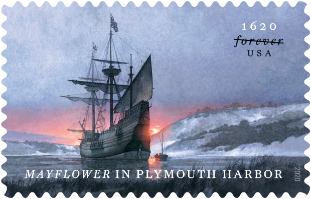 With this commemorative stamp, the U.S. Postal Service marks the 400th anniversary of the arrival of the ship MAYFLOWER in Plymouth Harbor in 1620.
The stamp's image is based on artwork of watercolor, acrylic and gouache, a method of  painting that uses opaque pigments ground in water and thickened to a glue-like consistency.  
The painting was digitally refined to convey a scene of desolate beauty at the end of the Pilgrims' long journey to an unfamiliar New World.
Art director Greg Breeding designed the stamp with original art by Greg Harlin.