FULLER SHALLOP AND  MAYFLOWER II
Fuller Shallop 2021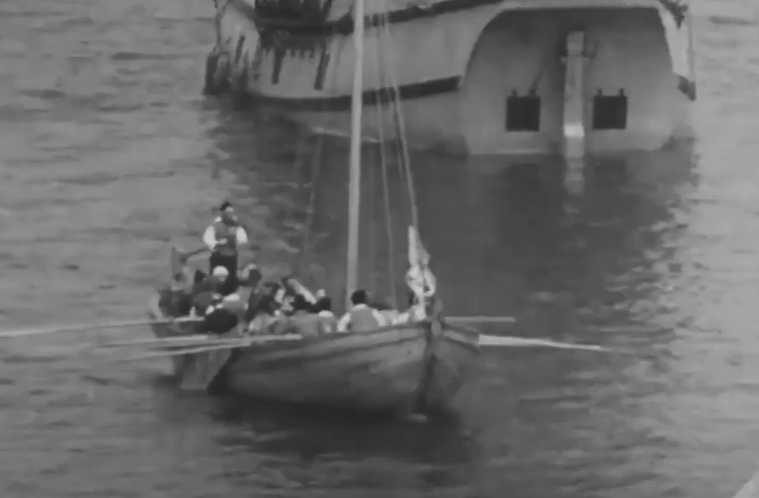 Mayflower II Shallop June 13, 1957
This replica's first honor was ferrying Captain Alan Villiers, Project Mayflower chief Warwick Charlton and ship builder Stuart Upham to shore on June 13, 1957, where they were surrounded by a harbor full of welcoming pleasure craft, dignitaries related to Mayflower descendants, 25,000 spectators and the international press corps.
The Fuller shallop is a 33-foot long boat that is propelled by a sail or rowers and is a replica of the shallop brought to America aboard the Mayflower in 1620.  It was used by the Pilgrims to explore the coastline of what now is Massachusetts.  Shallops were designed as heavy, beamy vessels that allowed large items to be carried and also provided safety from submerged hazards in unfamiliar coastal waters. 
The original shallop was stowed aboard the first Mayflower during its trans-Atlantic journey in 1620 from England to America and replica that has been restored was first used to carry people to and from the Mayflower II as it was anchored in Plymouth Harbor in June 1957.  This small boat was also designed by the naval architect William Baker, the man who developed the plans for the Mayflower II in the mid-1950s.  That 180-ton replica was constructed in Brixham, England at the Upham Shipyard, and this smaller bay transport boat was built by Plymouth Marine Railways in Massachusetts at the same time.
While the Mayflower II was restored at the Mystic Seaport Museum in Connecticut, the shallop was restored at Lowell's Boat Shop in Amesbury, Massachusetts, which is a working museum dedicated to preserving the art and craft of wooden ship building.
The renamed and renovated Fuller Shallop will sit in the shadow of Mayflower II at the Plymouth waterfront, as it has for decades.  It was given this new name by the provide group that provided the funds to restore the vessel and is meant to honor Deacon Samuel Fuller, one of the men who signed the Mayflower Compact.