August 31 –  September 1, 2019
Plimoth Plantation and world-renowned bell makers the Verdin Company thrilled spectators Labor Day Weekend as a new Ship's Bell was cast for Mayflower II in advance of her launch and re-commissioning September 7th in Mystic, Connecticut.
Cincinnati – based Verdin brought its mobile bell foundry to Plimoth Plantation for a weekend-long bell casting festival that kicked off a series of special events for the Mayflower II. 
Before departing for Plymouth, Verdin executives spoke with Local News 12 WKRC-TV Cincinnati about the mobile bell foundry.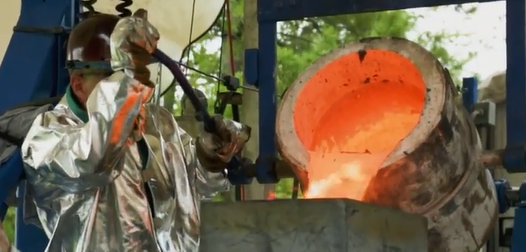 Once in Plymouth, local news WADT-TV reported the weekend's spectacular events, including ringing Mayflower's new bell for the first time.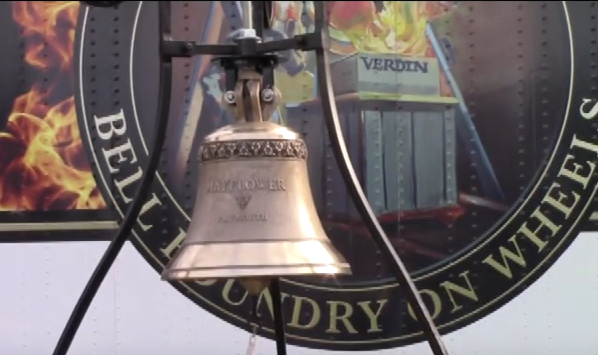 The bell casting was presented with expert narration.   Audience participation included the passing of bronze ingots and veterans' medals in the foundry cauldron for melting, pouring into a bell cast.  The new Mayflower bell cooled over night and was then broken during an outdoor ceremony open the public. 
Dignitaries and honored guests rang the bell for the first time before it was engraved and sent on to Mystic, Connecticut, for placement in Mayflower II's belfry.
On Saturday evening, after the bell was cast in its custom-mold against the backdrop of the day's last light, A Night of Fire & Wine celebrated the day's events with a"fiery" soirée overlooking the Eel River.
–
Learn more about MAYFLOWER Bell Casting at Plymouth 400 Commenoration.