MAYFLOWER  BELL CASTING
August 31 –  September 1, 2019
Join Plimoth Plantation and Verdin Bells at MAYFLOWER'S historic Ship's Bell-Casting Celebration.   
Here is what you will see Labor Day Weekend at Plimoth Plantation.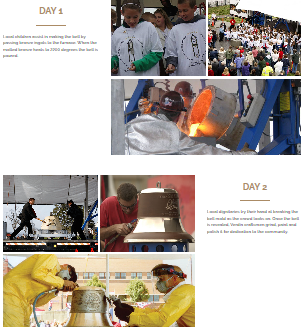 Watch a video: https://www.youtube.com/watch?v=5w5HJuHKsh0
Join world-renowned bell makers The Verdin Company as they bring their mobile bell foundry to Plimoth Plantation for a weekend-long bell casting festival that kicks off our series of homecoming events for the Mayflower II.
Watch it all unfold live with expert narration, from the passing of bronze ingots and veterans' medals to pouring, casting, and breaking out the bell.
Dignitaries and honored guests will ring the bell for the first time before it is engraved and sent on to Mystic, Connecticut, for placement in the Mayflower's belfry.
On Saturday evening, after the bell is cast in its custom-mold against the backdrop of the day's last light, celebrate at A Night of Fire & Wine, a "fiery" soirée overlooking the Eel River.
–
Learn more about MAYFLOWER Bell Casting at Plymouth 400 Commenoration.