MAYFLOWER

HOMECOMING
THIS EVENT HAS BEEN POSTPONED UNTIL MAYFLOWER II RETURN TO PLYMOUTH. THE SHIP IS CURRENTLY AT THE MYSTIC SEAPORT MUSEUM, CONNECTICUT. IT NEEDS TO PASS SEA TRIALS BEFORE IT CAN SAIL BACK TO PLYMOUTH. IT IS CURRENTLY ESTIMATED THAT MAYFLOWER II WILL RETURN SOMETIME IN JULY.
May 23 – 25, 2020
MAYFLOWER returns to Plimoth Plantation and her home birth in Plymouth Harbor MEMORIAL DAY WEEKEND 2020.

The ship will return to Plymouth Harbor for the first time since 2015, after sailing from Mystic Seaport to Boston Harbor before coming home.
A spectacular Homecoming Celebration is planned for Memorial Day Weekend 2020.
Plymouth 400/ Destination Plymouth County will roll out the red carpet – nautical style!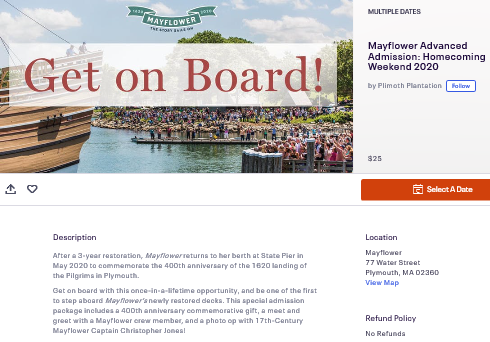 Expect significant media coverage, a high-profile gala event, celebrations, and educational public programs.
Join the celebration! Bring your family and friends to this spectacular Memorial Day 2020 event.