Major MAYFLOWER Event in 2019 / 2020
August 31 – September 1 . Labor Day Weekend 2019.  MAYFLOWER Bell Casting.  A new bell will be cast for Mayflower at Plimoth Plantation in Plymouth, Massachusetts, in advance of her Official Mayflower Launch on September 7.
––
September 7.  MAYFLOWER Launch. Mayflower will be Officially Launched  at Mystic Seaport Museum, Mystic, Connecticut, following three years of restoration.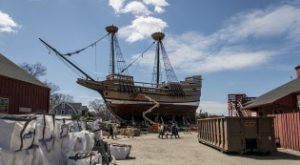 September – December 2019. Mayflower receives a new mast, sails and riggings at Mystic Seaport, Connecticut.
January – March 2020. Sea Trials for Mayflower.
–
April 24, 2020.  Plymouth 400 Commemoration Opening Ceremony.   MAYFLOWER'S historic roots and legacy – exploration, innovation, self-governance, religious expression, immigration, and thanksgiving  – will be honored at this special event.  Invited participants include state and federal officials, representatives of the United Kingdom, The Netherlands, colony partners, and many more.  Plymouth, Massachusetts.
May 14-19, 2020.   MAYFLOWER Sails 2020 into Boston Harbor with USS Constitution. The two ships will together and then dock next to each other for a week-long maritime festival.    Watch Massachusetts Governor Charlie Baker and Boston Mayor Marty Walsh announce the event.

May 21-25, 2020. MAYFLOWER Homecoming celebration when the iconic ship returns to her permanent home in Plymouth, Massachusetts.  Memorial Day Weekend.
June 27-28, 2020.  Official Maritime Salute to the 400th Anniversary.   This two-day Maritime Salute pays tribute to the Pilgrims' journey on board the MAYFLOWER from Plymouth, England, to the site of Plymouth Colony in the new world.
–
September 7 – 14, 2020.  MAYFLOWER  Port Visit to  Provincetown.  Daily historical re-enactments of the signing of the Mayflower Compact, plus other events and celebrations.
September 12, 2020.  MAYFLOWER Gala in Provincetown.  The event commemorates the signing of the Mayflower Compact.  The event will feature food, spirits an historical reenactments.  
September 14, 2020.  MAYFLOWER Sunrise Bon Voyage.  The culminating event of Mayflower's Port Visit will be a Sunrise Toast and Bon Voyage as she journeys across Plymouth Bay to her home at Plymouth and Plimoth. 
Fall 2020.   Continuing festivals, celebrations and education outreach.
November 11, 2020. 400th Anniversary of MAYFLOWER Compact signing.